3D printing or conventional printing?
10/18/2017
Webcartucho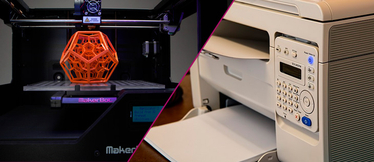 What is the diffference between 3D printing and conventional one? What should you know about 3D printers? Technology is constantly developing and nowadays it is fully at the service of the user, but before buying a printer it is important to properly research on the different options. In this article, we will try to define the features of each one in order to help you make the right choice.
What are the differences between 3D and conventional printing?
Conventional printers are much simpler when compared to 3D ones; they are the ones everyone is used to having at home and the ones that you use for printing "normal" documents or pictures. However, we must say that this type of printers are in a constant process of renovation and evolution, and they offer functionalities that were unthinkable some years ago.
How does 3D printing work?
3D printing has only recently emerged and has marked quite a technological revolution: it is like some kind of magic that allows you to create objects out of nothing. Teacups, aircraft components, human organs and even a house are some of the things that have already been produced using this technology.
The materials used for the creation of these objects include metals, nylons and a hundred other possibilities. However, these printings are mainly used for professional and research purposes, since they provide a perfect reproduction of objects that can be studied just like the real ones.
Advantages of 3D printing
Adaptability
Flexibility
Cost reduction
Customisation
Innovation
And many other possible applications that we have not figured out yet
Disadvantages of 3D printing
Loss of jobs
Possible infringement of copyrights
Possible malicious use
Increase of useless products
More expensive printers