What is the difference between thermal transfer and direct thermal printing?
2/24/2022
Webcartucho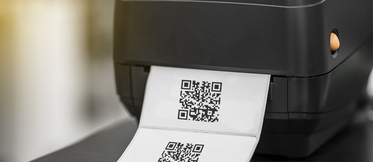 Are you thinking about buying a label printer and wondering whether thermal transfer printing or direct thermal printing is right for you? Well, we're here to try and help. Both professional labelling options are affordable for everyone. However, when it comes to making a choice, it's important to understand the pros and cons so that you can find the right one for you.
We're going to explain in simple terms what each technology consists of. But it's essential that you have a clear idea of what you're going to use them for and the intended purpose of the labels you're going to print. For example, thermal transfer is the best method for labels that have to last for a long period of time. If, on the other hand, the labels are disposable, a direct thermal printing machine will do the job.
What is thermal transfer printing?
Thermal transfer printing is a technology designed for label printing that uses a thermal printhead and a ribbon tape. The printhead will heat up the ribbon and the ribbon will release the ink and transfer it to the label. There are different types of ribbon (wax, resin, mixed) and you can also choose between different colours and not only black.
Advantages of thermal transfer printing
Thermal transfer printing is very durable, resistant and can be in colour (depending on the ribbon used).
Labels printed with this technology can withstand extreme temperatures, water, chemicals and exposure to direct sunlight
In addition, the print quality is sharp and there are no problems with legibility or blurred printing.
Thermal transfer allows you to print on different materials or surfaces (plastic labels, fabric, polypropylene, polyester...).
It delivers high printing speed, making it perfectly suited for industrial environments.
Thermal transfer printing labels
Highly durable, resistant, high quality thermal transfer printing is perfect for:
Permanent ID cards
Labels for the food and healthcare sector where food or samples have to be kept at a certain temperature.
Labels for the logistics and supply chain industry.
Labels for the textile industry.
Any label that has to remain legible for a long time.
At Webcartridge we have a wide variety of thermal transfer labels.
What is direct thermal printing?
Direct thermal technology is also a good option for professional labelling. Direct thermal printers do not use ink, toner or ribbon. They work by means of a thermal printhead that applies heat directly to heat-sensitive paper. The resulting label is very sensitive to light and heat and becomes less legible over time.
Advantages of direct thermal printing
It's a simple and low-cost technology that creates black-and-white labels that are perfect for use in situations where they don't have to last very long.
These printers do not require ribbon, ink or toner.
Direct thermal labels
They are ideal for everyday shipments in the logistics sector.
Supermarket or appointment tickets.
Patient identification labels.
Labels for perishable products such as fruit, meat or fish.
In our online store you will also find a wide selection of thermal labels.
In short, both technologies have brought about a revolution in professional labelling. You only have to consider your needs when choosing one or the other.