Do you know the HP ENVY Photo 7830 printer?
8/14/2018
Webcartucho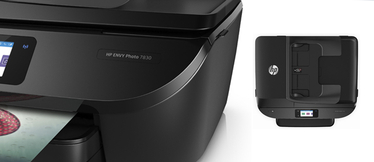 A few weeks ago, we told you that HP had launched a new set of ENVY Photo printers with the aim of revolutionizing the printing at home, allowing to print with a quality comparable to a photo lab. 
In today's article, we will talk to you about the HP ENVY Photo 7830 printer. HP has recently presented it as a high-performance printer, specialized on high quality photo printing.
From a physical point of view, this printer has broken with the minimalist concept, to which the new HP printers had accustomed us. It weighs 7,5kg and its dimensions are: 45,4 x 19,3 x 49,1 cm. The printer has a 2,65-inch LCD touchscreen, that allows an easy interaction and navigation through the menu. Since it is a multifunction printer, it also allows the printing of the files, photocopying, sending faxes and document scanning. 
Thanks to the HP ENVY 7830, you will be able to print from any wireless device as long as it is connected to the same network. It is also provided with a USB port, so it offers the option to print directly from a USB stick. 
It has to be said that the quality of the printing of this device is very high, which turns it into a highly recommended printer for the domestic use when we are looking for speed and quality.
The HP ENVY Photo 7830 printer uses the HP 303 cartridges, which are already available on WebCartridge. We only have currently the HP303 cartridges in their original version. But as soon as we have the HP 303 compatible cartridges… You will be the first to know!