How can I reset the Brother HL 4140CN printer?
1/31/2019
Webcartucho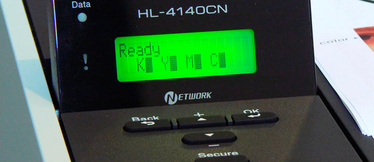 Do you need to reset your Brother HL 4140CN printer and you don't know how to do it? Well, before letting you know the steps you need to follow, maybe you also need to know how we have reached this point. As you well know, the printers are made of many pieces, among them the page counter.
Sometimes we see an error message that can make us think the toner is empty. That is not true. If you see that your printer prints as per usual and without stains, this means that the page counter has reached its limit. To solve this error message, you need to reset the counter to zero, so you can continue printing without problems.
How can I reset the Brother HL 4140CN?
Follow these simple steps and everything will be solved.
Open the front cover.
Press the keys SECURE PRINT and CANCEL at the same time.
You will see that on the screen "Menu restore" appears.
Use the keys "up and down" to select the toner cartridge you want to reset and select it. Once you have done it, you will see the following options (we will select, for example, the Black cartridge):

B.TNR-STD (TN-320BK)
B.TNR-HC (TN-325BK)
B.TNR-SHC (TN-328BK)

Select now the option of Brother consumable you have.
Press OK to select the toner you want to reset.
You will see on screen "Confirm - Cancel?".
Select Confirm and press OK.
You will see on screen "Front cover opened, close the cover". Now you can close it because it has been reset.
As you can see, it's not that difficult to reset the Brother HL 4140CN printer. Just by following some steps you will do it. We would like to remind you that this printer uses toner cartridges TN325. These high capacity consumables can be easily found on our catalogue at WebCartridge. Do not hesitate to contact us if you have any problem or want to now more.