How does an ink printer work?
3/6/2019
Webcartucho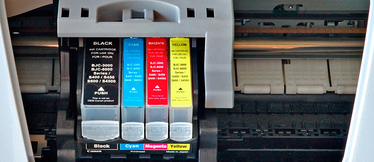 The ink printer is a model for domestic use with high quality in bright colours. It is very easy to use and low cost. These printers work by placing small droplets of ink onto different types of surfaces, specially onto paper.
This useful tool often has two types of cartridges: one black and the other coloured. This last one contains the primary colours: cyan, magenta and yellow. However, there are some inkjet printers that have four or more than four cartridges, that is, a black cartridge and a cartridge for each colour.
How does an ink printer work?
The inkjet printer is characterized by the fact that the printing head touches the paper. This way, the printing head uses hundreds of tiny guns or nozzles to place extremely small droplets of ink onto paper to create an image or a text. 
What are the advantages of an ink printer?
It has several advantages:
It is very quiet.
It has a great quality on the printouts. Besides, it sometimes has the option of installing an ink cartridge with photographic quality.
The coloured printouts are more affordable than other types of printers, except for laser printers.
Its cost is relatively low and that's why it attracts so many people.
It has a smaller size than laser printers because these last ones use toners, which are bigger than ink cartridges.
An inkjet printer is able to print up to 38 pages per minute in black.