How is the new model Epson ET-3600?
5/21/2019
Webcartucho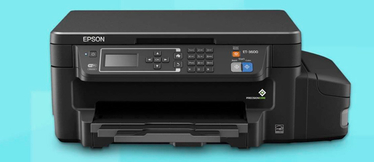 Epson adds a new product to its selection. At the end of 2015, Epson presented the revolutionary EcoTank ink system, a system based on a high capacity reservoir which can save time on a long-term basis and avoid the cartridge change. Now its new ET-3600 has a 3 in 1 capacity, one of the most suggested ideas by Epson users.
What exactly does this new printing form entail? Very simple, it prints quickly and automatic on both sides, a feature that will make the printing simpler and more profitable. It reduces costs and is eco-friendly too, since the paper is reduced by half and we won't be using more paper than we need it.
This new printer is one of the best representatives of this type of technology. It is also a good option if you are looking for a printer for your house or the office. This 3 in 1 inkjet printer can print up to 11,000 pages in black and colour without new cartridges.
Moreover, the EcoTank ET 3600 printer is equipped with the latest developments in printing technology: Wi-Fi and Wi-Fi Direct. It can make the most of the Epson Connect functions. Through the free app Epson iPrint, the software sends documents to print and scans from smartphones and tablets. For a greater flexibility, with this device you can also send files via email from any place on the world thanks to the Epson Email Print application.
On the other hand, to print high quality documents, the ET-3600 printer uses the Micro Piezo technology. And if we focus on its speed, we should say that you can print up to 13 copies per minute in black, while in colour you can reach up to 7.3 pages per minute.
The EcoTank ET-3600 printer uses the reference 664 for the ink bottles that you can buy at WebCartridge at the best price, as well as a wide range of Epson consumables.