HP 303 cartridges have finally arrived at WebCartridge
5/4/2018
Webcartucho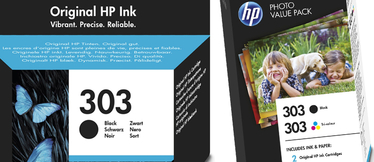 We have some very good news today: HP 303 ink cartridges have finally arrived at our Website, and both standard and XL capacities are available. These new cartridges are compatible with the latest printer models launched by HP, which are meant for printing photos from home. These supplies will help you print your pictures with an amazing quality as well as bright and realistic colours.
At the moment, only Original HP 303 cartridges are available, but their compatible version will certainly be here shortly as well. And as soon as they are, you will be the first to know! We will keep you updated, so stay tuned.
Standard capacity HP 303 cartridges feature a capacity of 4 ml and they will enable you to print approximately 200 pages. XL cartridges, on the other hand, contain 12 ml of ink: enough for up to 600 pages. The quality of these HP cartridges is well proven, so you will be able to print awesome pictures in the comfort of your own home.
Our catalogue is growing fast and we update it regularly with the newest printer supplies, so we are always really happy to let you know when new products become available. By the way, if you are interested in getting some HP 303, you can find them here.