Inkjet printers vs. laser printers
11/2/2017
Webcartucho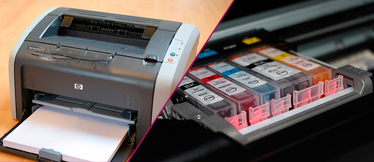 One of the most frequently asked questions when it comes to choosing a new printer is whether it is better to get an inkjet or a laser device. They both deliver a very good quality, but each one has very different features and they are suitable for different purposes and different types of users. In this article, we will try to clarify the advantages and disadvantages of both inkjet and laser printers in order to help you choose the one that best meets your needs.
What are the advantages and disadvantages of laser printers?
Laser printers feature a light-sensitive drum that transfers images to the paper by means of an electrostatic charge. It is also important to note that this sort of devices work with toner cartridges filled with powder.
Some professionals prefer this type of printer because they print much faster than inkjet printers. Besides, laser printers deliver a much better quality with text documents, so if you need to print texts and graphics on a regular basis, a laser printer is surely the best option for you, since you will get sharp clean black texts.
Also, although toner cartridges are normally slightly more expensive than liquid ink, they might end up being more cost-effective, since it is possible to print a larger number of pages with them. Another important advantage of laser printers is the fact that they operate quite silently.
However, laser devices won't be able to handle documents with a high graphic complexity, so if you require your printings to have an excellent photographic quality, you should go for an inkjet printer. 
What are the advantages and disadvantages of inkjet printers?
In the first place, these printers are perfect for printing photos in a very high quality, and they do a much better job with image-heavy documents than laser printers. Besides, they adapt to a broader variety of document dimensions.
Also, the price of these devices is normally lower than laser printers, and the price of liquid ink cartridges is also less expensive than toner cartridges.
On the other hand, these printers deliver a lower quality when printing text documents, since they are more likely to cause blobs and print defects, so if you frequently need to print large numbers of text documents, an inkjet printer might not be the right choice for you.
In conclusion, which type of printer is the best one for you depends basically on your needs: what you wish to print and how frequently. Technology is constantly moving forward, so you will not have any problems finding the model that best suit your needs, and your wallet.