Is it possible to use both compatible and original cartridges in the same printer?
4/19/2021
Webcartucho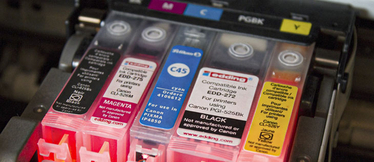 This is a concern that many people have when choosing print consumables. For example, a user may insert a compatible black cartridge and an original magenta cartridge into their printer and discover that the combination does not work. Why does this happen? Can't compatible and original consumables be used together? The answer is: it depends. The most common home printers are inkjet ones; these may take cartridges with or without in-built printheads because this technology is integrated into the machine itself. So, what does this mean when it comes to using compatible and original cartridges in the same printer and at the same time?  Well, it is perfectly safe to use original and compatible cartridges that have built-in printheads together (for example: HP 301 black and colour, or Canon 540 and 541). However, those that do not incorporate printheads must be of the same type — either all compatibles or all originals — for the printer to read them (for example: Brother LC1280 black, cyan, magenta, and yellow). 
So, should I buy original or compatible cartridges? 
We are sure that you are already aware that original ink is not cheap. Printer manufacturers recommend that customers buy their own consumable products because this is where most of their profits are made. For this same reason, many of these companies claim that consumers risk voiding their printer's warranty if they use third-party cartridges. Despite these claims, a manufacturer is required by law to provide a 1-year guarantee for all electrical goods. If your printer was purchased within the last twelve months, the manufacturer is legally obliged to prove that the compatible consumable caused the malfunction. On top of this, numerous national consumer associations throughout Europe have refuted claims by manufacturers that the use of consumable cartridges voids printer warranty. For example, the OCU (the consumer rights association of Spain) states:  "The use of alternative cartridges does not invalidate the warranty, although printer manufacturers usually state that any damage caused by the use of non-original cartridges is not covered by the warranty. From our analysis we conclude, moreover, that an alternative cartridge is unlikely to damage the printer". 
Furthermore, although the main advantage that compatible cartridges offer over originals is their low price (the difference in cost can be up to 70%), all consumables must undergo strict quality control checks. If you choose a reliable supplier, using compatible cartridges guarantees quality printing at a much lower cost. All you need to know is where to buy, which ones to buy, and whether they may be used together.