Is your printer having problems recognising Brother TN247/TN243 toner?
10/28/2021
Webcartucho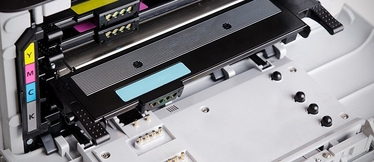 Brother have chips built into their toner cartridges. This means that if your printer reports a cartridge recognition error, it's probably due to a manufacturing defect or outdated firmware. In the case of Brother toner cartridge TN247/TN243, which is compatible with the following printers: DCP L3510CDW, DCP L3550CDW, HL L3210CW, HL L3230CDW, HL L3270CDW, HL L3280CDW, MFC L3710CW, MFC L3730CDN, MFC L3740CDN, MFC L3750CDW, MFC L3770 CDW; four of these: MFC L3710CW, MFC L3730CDN, MFC L3750CDW, MFC L3770 CDW; have a reset function that is easy to execute and works quite well.
We'll explain one by one the steps you need to take if a Brother TN247/TN243 toner recognition error occurs:
First of all, turn on the printer and open the cover.
Now press the arrow key 'back' and the red arrow key at the same time... You will notice that the display shows the different toner ink colours.
Touch the colour you want to reset or the one you are experiencing issues with and select the task you want to perform: reset or reinstall.
The printer display should confirm that the action has been accepted.
Finally, close the cover. This operation should solve your problem as long as there are no other issues with your printer or cartridge.
One last tip: to prevent the printer from automatically updating and rendering your toner firmware obsolete, you can disable updates through the Brother user menu. If applicable, you can also disable updates from within your operating system.
Remember that you can find TN243 and TN 247 toner cartridges along with all kinds of consumables Brother — both original and compatible — of the highest quality and with full guarantees at Webcartridge.