What is a multifunction printer and what are its advantages?
10/12/2017
Webcartucho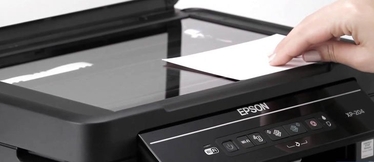 What is a multifunction printer? What can you use it for? Multifunction printers are devices that incorporate the functionality of a printer, scanner and photocopier into one machine. These functions needed to be carried out by different devices in the past, but technological advances have achieved to consolidate the most important functions into a single one. Depending on the model, this type of devices can also include mailing and faxing functions as well as the option to use memory cards or hard drives on them.
On the other hand, these multifunction devices can be inkjet or laser printers. The first ones work with liquid ink cartridges that mix primary colours to obtain the desired hue. Laser multifunction printers, however, print only in black and white and work with toner cartridges, that is, with powdered ink.
When starting out, these devices were basically conceived to be used at home or small businesses, but nowadays most big companies choose this type of printers for their offices. Among other reasons, this is due to the fact that they allow users to save space since they do not have to buy many different machines to complement the functions of a normal printer.
What are the advantages of a multifunction printer?
Instead of needing to find space for a fax, a printer and a photocopier, you will have all those functionalities in a single machine. If you have little space at home or at your office, this type of device will save you lots of clutter and you will be able to optimise the available space.
Although this type of machines are initially more expensive than regular printers, the total cost of buying a multifunction device remains lower than the cost of multiple devices. Also, you will save big amounts of money on maintenance, since you will only have to take care of one device.
If you get a multifunction printer, you will only have to supply one device with power, which will save you money on energy.
What are the disadvantages of a multifunction printer?
The biggest disadvantage of multifunction printers is the fact that the quality of each functionality might not be the best when compared to standalone machines.
Although they might be able to print in a very good quality, they normally scan in a low resolution. Their printing speed may also be slower and the fax transmission speed may not the be as good as it would be with a single function device.