What is sublimation printing?
1/27/2022
Webcartucho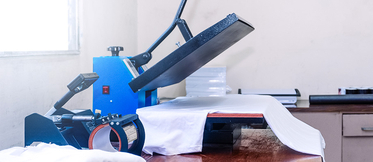 Have you ever been given a mug featuring a picture of your nephews and nieces or a T-shirt with the phrase 'best dad in the world' on it? Well, both the design on the mug and the T-shirt have been produced using sublimation printing. Sublimation printing is a technique that allows you to personalise different products by printing a photographic image or text on them. Heat is the key; you can only transfer the design to the surface you have chosen using a high temperature. Due to its simplicity, sublimation printing has become incredibly popular in the world of fashion, accessories and merchandising. It's a really fantastic way to create unique, exclusive and original products.
What does sublimation printing involve?
Suppose you've started a takeaway business and want to promote it by giving away aprons with your logo on them. The best way to make these aprons is to use the sublimation technique. What does this consist of? It consists of permanently transferring the image you have saved on your computer onto your chosen item. This happens when the sublimation ink you have used to print your design is activated by heat, changes from a solid to a gas and then permeates the product.
What things do you need for sublimation printing?
An inkjet printer that you must use exclusively for sublimation. In other words, if you have used the printer with normal ink, it'll no longer be suitable for sublimation. When choosing a printer, you should think about the kinds of items you wish to sublimate on. For mugs, phone cases, etc., a small A4 printer such as the Epson F100 will do. For textile lettering on T-shirts or sweatshirts, you will need a larger size printer, such as the F500 in A1 format.
Sublimation ink: These are special inks that react with high temperatures by turning into a gas and permeating the surface of the sublimation product. It's essential to use a good quality sublimation ink to get the results you're hoping for. Avoid lack of sharpness in designs, low colour intensity and loss of definition after washing by choosing the right ink. You only need four ink colours for sublimation printing: black, yellow, cyan and magenta. Please note that when you print the image onto the sublimation paper, the colours won't look as intense as on the original image. Don't worry. Provided you choose a good-quality ink, the colours will be accurate once the design is transferred to the selected item.
Sublimation paper: you use this to transfer the ink from the printer to the product you are going to sublimate onto. Good paper should optimise definition and enable maximum ink transfer. Please note, too, that although different brands are available, there is only one type of sublimation paper. It doesn't matter if you're sublimating mugs, fabrics, porcelain, etc — you always use the same type of sublimation paper
Thermal tape:its basic job is to keep your sublimation transfer in place and help it to withstand the temperature of the heat press.
Heat press: You must take into account the shape and size of the products you wish to sublimate when choosing a heat press. There are specific heat presses for cups, for plates; flat heat presses for articles such as textiles, heat presses for photos bags etc.; and also multifunctional heat presses with interchangeable plates that allow you to print onto different objects (this option is great for businesses that sell a range of sublimated products).
What materials can you sublimate onto?
Fabrics: T-shirts, sweatshirts, backpacks, bibs, cloth bags... all kinds of garments can be sublimated. However, keep in mind, that fabrics you can sublimation transfer print on must be made of polyester or be made up of at least 50 % polyester. This percentage is not random because at least that amount of polyester is required for the ink to set permanently. To ensure that the colours you use are faithful to the original design, it is advisable that you sublimate onto a white background. For example, if you choose a red T-shirt, the dye sublimation inks will blend with the red fabric, altering how the original colours appear.
Ceramics: mugs, plates, trays and any other ceramic product that is suitable for sublimation. At Webcartridge, you'll find a wide range of mugs for this purpose. Please note that if the item is not pre-treated for sublimation, you will need to apply a special varnish before using this technique.
For example, key rings, bottle openers, phone cases must be polymerised (coated with a polyester resin) and be able to withstand high temperatures.
Advantages to sublimation
Sublimation is a relatively simple technique that is also quick to learn.
It enables you to print onto hard surfaces and non-flat surfaces such as mugs.
With only four inks (black, yellow, cyan and magenta), you get an unlimited range of colours, so there are no limits to the designs you can create.
You can personalise all kinds of objects very easily.
It gives you high-quality and durable results and, unlike with other techniques, the ink becomes infused within the surface of the product the touch, cannot be scratched off and does not fade in colour.
Production costs are low and it's highly profitable if you're considering it as a business idea.
With just a few tools (printer, ink, paper and heat press) you can sublimate as many items as you want.
Nowadays, there are many products available that are sublimation-ready.
Drawbacks of sublimation
Sublimation fabrics (T-shirts, sweatshirts, bags, bibs, etc.) must be made of polyester or be made up of at least 50% polyester.
In order for the final result to be exactly the same as the chosen design, the sublimated background must be white. Printing on a darker surface will result in the colours being distorted.
In order to sublimate onto ceramics and other non-textile products, they must have a polyester coating.
When it comes to your inkjet printer, once you use it with normal ink, it can't be converted for sublimation printing.
If the sublimation product is constantly exposed to direct sunlight, it may fade over time.
The resolution of the image you're printing will determine how large you can make the image on your product.
How to sublimate mugs step by step
Choose a design and choose a mug; remember that although you are not limited in terms of the design, you are limited in terms of the mug because not all of them are suitable. As we mentioned before, if it is a garment, it must be made of polyester or be composed of at least 50% of this material. It must also have a white background, and if it is made of another material, it must be adapted for sublimation and be able to withstand high temperatures.
Now print your chosen image on an inkjet printer containing dye-sublimation ink and on dye-sublimation paper. Remember that you won't see the original colour image on the paper, but don't worry!
Keep in mind both the size of the print and the size of the item you wish to transfer the image onto. Crop the image so that it fits the product well. If you're transferring onto an object that isn't flat such as a mug, you should heat resistant tape to hold the transfer in place. If the paper is not stuck firmly enough, you won't get satisfactory results.
Now place the product with the transfer paper on the heat press, fix it in place and leave it for the amount of time indicated in the manufacturer's instruction manual.
When the process is finished, the article will be very hot. Wait until it cools down before removing it or use a protective glove.
And now it's ready! You now have your personalised product!
If you have come this far, we are sure that you will also be interested in our guide on how to sublimate a mug.