What should I do with my printer if it doesn't recognize the Epson 29XL cartridge?
2/28/2019
Webcartucho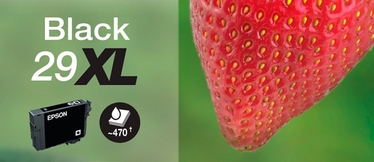 We often find that our printer doesn't recognize your Epson 29XL cartridges. Why is that happening? Don't worry because the compatible cartridges you have purchased are perfectly fine. What is happening is that the original ones have a chip that identifies them as original and your printer knows it. However, you need to know that the compatible cartridges sold by WebCartridge have a chip as well, so you must indicate your printer how to recognize them.
Let's see first what kind of consumable these ones are. The 29XL cartridges belong to the strawberry series, used on the Expression Home printers, high quality devices at an affordable price. These cartridges are compatible with the following models: Epson Expression Home XP-235, XP-332, XP-335, XP-432 and XP-435. The 29XL ink cartridges are high capacity and can be used for 450 pages.
Now we are going to explain in detail the instructions you'll have to follow when your printer does not recognize the 29XL cartridges:
Press OK when your printer shows a cartridge change;
Move the empty cartridge away from your printer;
Turn off your printer;
Turn on the printer again;
Remove the yellow sticker from the new cartridge;
If the printer does not recognize the cartridge after the installation, press "Ok".
Do not uninstall the cartridge, you only need to press "Start" for the verification process.
If it continues to not recognize the cartridge, you will have to go back to install the cartridge.
The pop-up window can show a message saying that the ink is not original after the installation.  Press then "Ok" and "Yes" to continue with the printing. And if you want to ensure a better result in the printing process, make an injector test before printing. 
If you see an alert indicating that the cartridges are not Epson originals, you will need to press "Continue".
We remind you that at WebCartridge you can purchase the compatible 29XL Epson cartridges with the same guarantees as the original ones. You can see what you need on our catalogue. If you have any doubt, do not hesitate to contact us.