What to do if your printer doesn't recognize the HP 301 ink cartridge?
5/27/2019
Webcartucho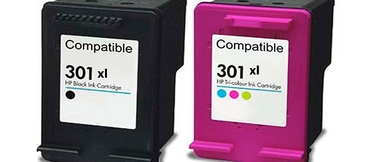 It is well-known that the leading manufacturers of printers and cartridges want us to stop buying compatible products. They are the ones who have the real business of the original consumables. That's why the original cartridges often contain a chip with relevant information: date of the first installation, ink level, remaining consumption, etc. Therefore, it is not unusual to see an error message while installing the HP 301 compatible cartridges.
What do I need to do to make my printer recognize the HP 301 cartridges?
As we have stated above, our printer may not recognize the consumable as original when installing the cartridge. For that reason, we must say to our device that it is ready to accept the compatibles. Make sure you have removed the protective case and the label that covered the printhead. It is also important to make sure the contacts are not dirty. You must know that your compatible cartridge has the same guarantees as the original one and, consequently, it will give you the same exceptional results. At WebCartridge we are specialists on cartridges and we can advise you. Moreover, you can also consult our wide catalogue of products for each need.
Let's see now how we can solve the problem of our printer not recognizing the HP 301 cartridge:
Keep your printer on and unplug the power cable from the back of the printer. 
Unplug the cable from the socket and let it rest for a couple of minutes.
Connect the cable to the printer and to the socket. Turn on the printer.
Try to print.
Is there an error? Then try to remove the cartridges from the printer.
Clean the contacts with a cloth very carefully.
Clean the internal contacts of the printer.
Install one by one the HP cartridges.
This way, the problem should be solved. However, it may happen that you have followed these steps and you see a message saying the cartridge is not original. Don't worry. You just need to omit the message and accept it. Now your HP 301 cartridges will let you print without any more problems.
At WebCartridge you can purchase the HP 301 cartridges in black or in colour. Besides, we would like to remind you that the compatibles only have the XL version.