Which are the innovations that Samsung presents for the ProXpress C30 multifunction printer series?
11/9/2018
Webcartucho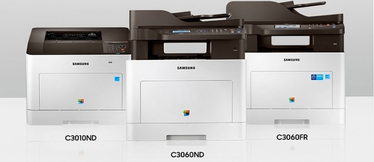 Do you already know the new ProXpress C30 multifunction printer series?  In this article we want to tell you all its innovations, so that you are updated on the latest in the market. Samsung has already informed all the media that are interested in this launch that it is characterised by low operating costs and high productivity.
Which models includes the ProXpress C30 series? The technology giant has included the so called C3010ND, C3060ND and C3060FR models, but we assume that what interests you most is the type of characteristics they present. Well, the first thing you need to know is that it is optimised so that you can use it in both small and medium-sized enterprises. If you are looking for a printer that gives priority to print quality, usability and operating costs, you have found it!
One of the new features that this series presents is the tendency to reduce the energy consumption and it also provides high-capacity toner cartridges. If you have a heavy workload and, therefore, a high-volume printing, these consumer appliances will make it easier for you.
Samsung has also announced that the ProXpress C30 series is also ideal for those who work with graphics or documents that require a high-resolution quality. It has resolutions of 9.600 x 600 dots per inch and the ReCP (Rendering Engine for Clean Pages) technology of the brand.
What has been improved in the C30 series in comparison with the previous one?
The printing speed has increased from 26 ppm to 30 ppm.
The toner performance presents a printing capacity of 8.000 pages in black-and-white and 5.000 pages in colour.
Capacity for 1.400 paper pages.
A 800 MHz dual-CPU processor, 50% faster than previous models.
Agility in the printing, copying and scanning processes.
There is no doubt that Samsung has considered the user needs for launching the new ProXpress C30 multifunction printer series.
As a final note, we would like to inform you the Samsung printer models C3010ND, C3060ND and C3060FR use the CLT-503 toners, that you can find on our website, both original or compatible.