Would you like to know some tricks and tips about the printer drums?
2/8/2019
Webcartucho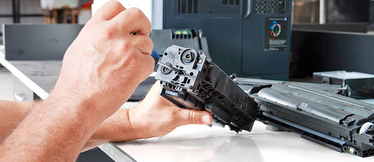 We usually use printers as if they have been there forever. Few are interested in discovering its components and in why it works like it does. That's why, in this article we would like to talk about a more specific element: the drum. We will talk about tricks and tips for your printer drums.
First, we need to know how it works. Its function is to transfer the powder of the toner to the paper. As everything else, it gets old. That's why it can get dirty, be defective or even stop working. When this happens, we quickly realize it on the paper, since the impressions become dirty or appear with a dark background.
Some wonder if it is necessary to clean it from time to time to extend its useful life and to prevent it from being replaced. Well, the drum has a useful life and even if we clean it a lot, it will weaken with use until changing will be inevitable.
One of the most common questions is whether is better to have the drum integrated into the toner or not. To be fair, it depends on the quantity of copies and the use. If you are not going to print that much, the independent drum would be a better option. That way you will prevent it from wearing. On the contrary, if you are going to use the printer almost daily, it's better to buy the drum integrated into the toner because it's cheaper. 
Finally, you need to know that the drum cannot be exposed to light to avoid any problems during the printing process.
We hope that with this article you had learned all you need to know about the functions of the drum and why it is so important. From WebCartridge we advise you to be informed before buying any drum unit.