How do you reset the toner counter of TN2410 and TN2420 cartridges?
10/28/2021
Webcartucho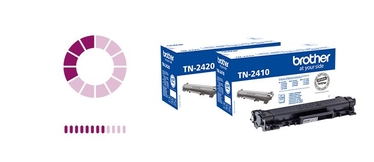 Many Brother printers suddenly cut off during printing or stop printing when they reach a predetermined number of printouts. This even occurs when the cartridge is new or still contains plenty of toner left in it. This is due to the printer's own settings. In order to ensure that all printouts are of the highest quality and are not affected by a lack of toner powder, Brother printers stop printing when a certain limit has been reached. Now, it's important to point out that this error has no relation with that which occurs when the printer's drum needs replacing. If this is the case, the printer will produce low-quality, blurry prints and blank pages. 
To resume printing, you must activate the "continue" mode of Brother MFC and DCP printers.  
Steps for resetting TN2410 and TN2420 toner cartridges
Press the "Menu" button.
Press the up and down buttons to find "General Options". Press "OK".
Press the up and down keys to find the "Change Toner/Replace Toner" option and press the "OK" button.
Finally, press the up and down keys to find the "Continue" option. Press "OK".
After you perform these steps, the printer will automatically start printing again as normal until the toner runs out completely. 
Please note that these steps are valid for the following printers: MFC L2710DN, MFC L2710DW, MFC L2712DN, MFC L2712DW, MFC L2730DW, MFC L2732DW, MFC L2735DW, MFC L2750DW, DCP L2510D, DCP L2512D, DCP L2530DW, DCP2537DW and DCP L2550DN. 
Finally, we're pleased to inform you that you can buy TN2410 y TN2420 toner cartridges, both in their original and compatible versions, at Webcartridge. Keep in mind that the compatible version is of the same high-quality as the original.
If you want more information on this topic you can read our post to learn how to reset TN241 and TN245 toner cartridges.