Would you like to know how to reset Brother TN241 and TN245 toner cartridges?
5/16/2018
Webcartucho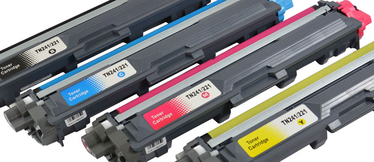 Are you trying to reset Brother TN241 and TN245 toner cartridges? If you are, you have come to the right place, because we are just about to show you how to do it step by step.  
Sometimes, after replacing toner cartridges on your printer by recycled ones, the device displays an error message saying "Toner Low" or "Toner Empty". At that point, you might wonder if the cartridge is faulty or if you did something wrong. Well, not at all. This is a very common problem, but the good news is that you can easily solve it from home by resetting the printer. To do it, you just need to follow these instructions:
First of all, turn on the printer.
Then open the printer cover.
Hold down the Star key (*) for five seconds.
The LCD screen will then display a new menu.
Now you need to choose the cartridge colour you wish to reset.
K = Black
C = Cyan
M = Magenta
Y = Yellow
STD = standard capacity cartridge
HC = high capacity cartridge
SHC = super high capacity cartridge.
Press OK to select.
Now you just need to close the printer cover. The toner cartridge has been reset.
Please, do not hesitate to contact us if you need any further help. And remember that you can find TN241 and TN245 toner cartridges for your Brother printer at the best price in our website WebCartridge.
In addition, you can find more information by reading our post on how to reset the counter of TN2410 and TN2420 toners.