How to reset the drum counter on Brother DR-2000
4/13/2018
Webcartucho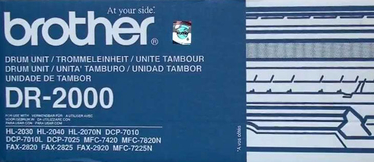 If after replacing the DR-2000 drum on a Brother printer it keeps displaying the error message "Change Drum", you will have to reset the drum counter. This counter controls the number of pages that have been printed, so need you need to set it back to zero so the printer recognises that the new drum has been installed.  
The drum counter on a Brother DR-2000 can be easily reset by following some simple steps. The instructions you need to follow depend on you printer model, so here you have two different possibilities.
Resetting drum counter on Brother HL-2020, HL-2030, HL-2040, HL-2050 and HL-2070 printers
Turn the printer on
Open the printer cover and hold down the GO button until the LEDs are lit
Then release the GO button
The drum counter has now been set back to zero.
Resetting drum counter on Brother DCP-7010, DCP-7020, DCP-7025, MFC-7225, MFC-7400, MFC-7420, MFC-7820, FAX-2820, FAX-2825 and FAX-2920 printers
Open the front cover
Press Options
When the message "Replace drum?" appears on the screen, press 1.
The Word "Accepted" will appear on the screen. You can now close the printer cover.
If you need to replace your Brother DR-2000, remember you can find it on our website at the best price. And if you have questions on this product, please contact us, we will be very happy to help you.
For more information you can read our post on how to reset the Brother DR-2200 drum counter.