How to reset HP Officejet 4500 printer
9/8/2017
Webcartucho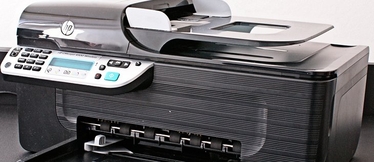 Printers are electronical devices, so they are likely to present software or hardware problems that interfere with their smooth functioning. Some of the most common problems are related to the ink cartridges, since sometimes the printer is unable to recognise them even after replacing them; but you can also encounter paper jams or have trouble getting the printer to execute your orders. 
All these problems can be easily solved by resetting your HP Officejet 4500. However, you must be aware that by doing this all custom settings will be deleted and factory settings will be restored, so you will have to set up your default printer once again.
Reset instructions for HP Officejet 4500 printer
Turn the printer off by pressing the ON/OFF button on the front panel. It is not necessary to unplug the power cord.
Turn the printer on while holding down the keys "9" and "#". A dialog box will appear on the screen. Do not release the buttons until this dialog box disappears.
Factory values will now be restored and initial set-up options will be showed on the screen: language selection, date/time, location, etc. Now you must configure your printer from scratch.
The problem should be fixed once your printer is reset. If the error persists, please contact your store.  
Finally, we would like to remind you that you can find ink cartridges for your HP Officejet 4500 at the best price in our online shop WebCartridge. 
If you want to learn more about the best way to reset different HP OfficeJet printer models you can continue reading the following posts of our blog, how to reset HP OfficeJet 6500 printer, how to reset HP OfficeJet 6600 printer, how to reset HP OfficeJet Pro 8000/8100 printers and how to reset HP OfficeJet Pro 8600 and 8610 printers.