How to reset the HP OfficeJet Pro 8600 and 8610 printers?
8/17/2017
Webcartucho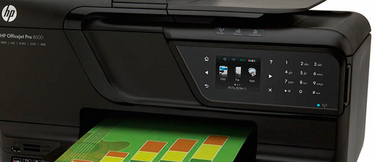 Do you have any problems with your HP OfficeJet Pro 8600 or HP OfficeJet Pro 8610 printers? Have you tried to look for a solution but you have not reached it? If this is the case, the best thing to do is to reset you printer, so it returns to its factory settings.
Firstly, you need to know how to access the printer hidden menu, so you can use it every time your printer has any strange symptoms. To access this menu, you must:
- Turn off the printer;
- Wait 10 seconds before turning it on again;
- When the printer is ON, press the back button 4 times (an icon with an arrow).
If you have properly done, the help menu will appear. But, how can you access the "Reset Menu"? In this menu, you need to navigate right to find it. Three types of reset will be displayed: partial, semi-integral and complete. Each one allows different problems to be resolved:
Partial Reset:
Partial reset only refreshes the printer and deletes the unneeded memory. It is useful to solve minor importance problems, such as slow printing, cartridges errors, etc.
Semi-integral Reset:
This is the most useful kind of reset. However, it deletes the printer personalized settings, by restoring them to their original state. Please, use this reset when the partial one does not solve the problem.
Complete Reset:
The complete reset is the most powerful one. If you have already tried the previous resets and the problem is not still solved, it is time to make your printer a complete reset. Nevertheless, it is not entirely recommended since this process deletes the depth setting. Besides, any interruption during the reset can make the printer unusable.
Finally, we would like to remind that cartridges for both HP printers can be purchased at our store by clicking here.
If you want to learn more about the best way to reset different HP OfficeJet printer models you can continue reading the following posts of our blog, how to reset HP OfficeJet 6500 printer, how to reset HP OfficeJet 6600 printer, how to reset HP OfficeJet Pro 8000/8100 printers and how to reset HP OfficeJet 4500 printer.